Dr Inventor - Analogies / Metaphors from Raw Text
This page offers some resources developed by the Dr Inventor project.
Source code written by the Maynooth team for 1) knowledge graph generation and 2) graph matching.
Dr Inventor Mapping between raw texts We offer a free online service to identifying the best analogical mapping between two texts. This also reports a number of metrics related to the mapping, using the Lin metric and it also a list of mapped pairs between the two texts. This builds on atailored version of the GATE parser, customised specifically to deal with academic publications written in English.




Try free-text mapping online.
International Conference on Computational Creativity ICCC (2010 - 2016) analogies
Online analogies between ICCC creativity papers have also been made available, using a simpler interface. the best five source analogs are listed for each paper.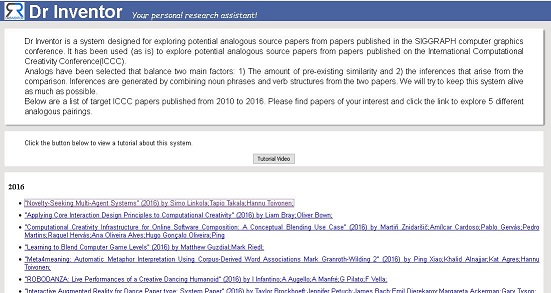 Explore pre-identified analogies between ICCC publications
SIGGRAPH (2002-2016) analogies (Full Dr Inventor interface)
Exlpore analogies between SIGGRAPH (ACM Special Interest Group on Computer Graphics) papers using the full system interface and showing the analogical inferences. The best five source analogs are listed for each paper.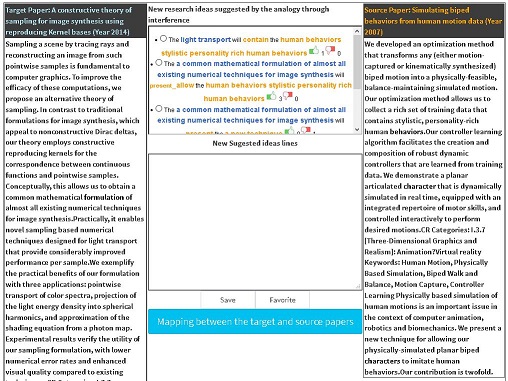 Explore precomputed SIGGRAPH Analogies using the full Dr Inventor interface
More information on the Dr Inventor Text Processing Framework developed by UPF, Barcelona, Spain. For information on the Dr Inventor Repository and Ontology Engineering from UPM, Madrid, Spain.
Publications
External Commentary
Video Presentations
Maynooth Dr Inventor Project members: Diarmuid O'Donoghue, Donny Hurley and Yalemisew Abgaz. Information for the Jan 2015 NUIM meeting.
Acknowledgement The research leading to these results has received funding from the European Union Seventh Framework Programme ([FP 7/2007-2013]) under grant agreement no 611383. (2014-2017).


URL: http://www.cs.nuim.ie/~dod/
Revised: 2016.
Contact: webmaster@cs.nuim.ie
Copyright 2000 National University of Ireland, Maynooth.